HALIFAX, Nova Scotia – As reported by the Chronicle Herald: "Security cameras using facial recognition technology will soon scan everyone coming through the doors of the newly renovated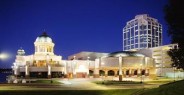 Casino Nova Scotia in Halifax Casino Nova Scotia.
"A digital security system and facial recognition technology, costing $3 million, are just part of $20 million in renovations being conducted at the Halifax casino by Great Canadian Gaming Corp., a casino and horse-racing company.
"'It's so good that you can wear a disguise and it (still) looks at the features of your face.' Howard Blank, the company's vice-president of media and entertainment, said Thursday.
"'Basically, what it does is it protects those people that have nothing to worry about that are in our facility. It deters people who would be perhaps of ill-repute or those undesirables that we wouldn't want on our property.' The publicly traded company, which bought the province's two casinos last year from Caesar's Entertainment Inc. for $92.8 million, is also pumping about $3 million into renovations into the Sydney casino.
"…The casino now has 720 video lottery machines, down from the previous 750, but about half of those machines are new. Instead of eating and spitting out coins, the machines have a 'ticket in and ticket out' technology. If a patron wins, the ticket may be redeemed at a cash station. Some penny and two-cent machines have also been added.
"A new eight-table poker room is proving to be highly popular among patrons, he said.
"The company has closed the restaurant TGIF and opened its new signature restaurant, Trapeze, and added Java Jazz, a 24-hour cafe. Live music and entertainment are available all day at the casino's lounge, and Mr. Blank said entertainment is expected to be a big drawing card.
"...Great Canadian Gaming Corp.'s first-quarter profit dropped to $1.4 million from $9.3 million a year ago, due to restructuring costs.
"Late Thursday afternoon, the stock was trading at $12.80, up 45 cents."
Great Canadian Gaming Corp.
200 - 13775 Commerce Parkway
Richmond, BC V6V 2V4
Phone: (604) 303-1000
Fax: (604) 279-8605
Website: www.greatcanadiancasinos.com

Founded 24 years ago, the Great Canadian Gaming Corp. has headquarters in Richmond B.C., and trades on the Toronto Stock Exchange. The company owns five casinos, three race tracks, and a bingo and entertainment centre in B.C.; two race tracks in Ontario; and four casinos in Washington state.