The principality of Monaco, sovereign city-state located in the South-East of France and on the Italian border, is a real paradise on earth. The yachts, the beautiful cars, the balconies on the

There are occasions when we here at ReadyBetGo want to bring you interesting facts about the gambling industry When something catches our eye, we will publish it for your enjoyment.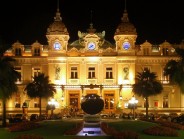 Casino de Monte Carlo sea, the jet set, the Grand-Prix…everything is beautiful at Monaco and that is why it makes us all dream. Recognized in the whole word for its wealth, Monaco features 4 high-end casinos spread within 2 miles. It may be difficult to know in which one to go… that is why we will try to guide you to the one that will fit you the most!
Having visited the four districts of the Principality: "Monaco-city"; "La Condamine", "Monte Carlo" and "Fontvieille", it is almost unavoidable to go to one of the casinos of the country.
Even if it is just as a curious visitor, the atmosphere that is spread in these magnificent establishments must be experienced once in a lifetime.
The Casino of Monte Carlo
It is the most impressive of all. The architecture of the building and its decoration are so sumptuous that it looks like a museum. Located in the most elegant district, at Monte-Carlo, as its name refers, it provides 7 gaming room, indoors or on the terrace. A wide diversity of gaming tables is waiting for you with high minimum bets. Hundred of slot machines are also available.
The Café de Paris Casino
This architectural landmark realized by the famous Charles Garnier is the temple of slot machines and electronic games of Monaco. You will find more that 400 of them within the casino including the world most beautiful models of slots. It is a heaven for the amateurs of the latest technologies. The atmosphere that is spread goes along with it.
The Monte-Carlo Bay Hotel & Casino
The peak of luxury and elegance is here. It is the smaller and more intimate establishment of the four. You will find only slot machines, at a number of 140. It is here that you should come for a relaxing moment around the games, restaurants and pools of the hotel.

The Sun Casino
Located within the Fairmont Hotel, it is surely the most festive casino of all. In an American style, you will enjoy the 300 slot machines and typical US gaming tables like the Ultimate Poker or Craps. A stage with live music played every weekend is also waiting for you in the heart of the gambling room!

Anyway, you can say that these casinos do not suffer from lack of attractive features and charm. Each one in its own style will attract its specific customers.