New York - As reported by Forbes: "Calvin Ayre, the Internet gaming mogul, was raided by authorities in Costa Rica on Friday.
"Ayre, 44, is prominently featured in Forbes newly published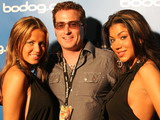 Calvin Ayer, CEO of Bodog.com annual ranking of the world's billionaires, with an estimated net worth of at least $1 billion (see 'Catch Me If You Can'). He made the list for the first time this year.
"The raid on his $3.5 million, 10,000-square-foot compound in San José occurred while a Fox Sports television crew was filming for a forthcoming poker reality show.
"Ayre's fortune comes from his privately held web gaming company, Bodog Entertainment Group. It takes bets from 16 million customers, most of them in the U.S. where Internet gambling is illegal.
"Friday's raid on his property is reported to be in connection with a raucous poker party being staged for the TV cameras. Neighbors have previously complained about the disruption caused by the filimg.
"Computer equipment was removed. Ayre was subsequently released.
"Reports say that some of his personal security guards are still being held.
"No charges are reported to have been made, and there no suggestion at this point that the U.S. authorities prompted the raid, though they hold his fortune to have been amassed illegally.
"Canadian-born Ayre is not a U.S. citizen and has no known U.S. assets.
"Last year Bodog handled $7.3 billion in online wagers, triple the volume of 2004. Ayre says all this betting gave him sales of $210 million, and that he took 26% of the revenue to the bottom line."

Bovada is an offshoot of Bodgo,one of the most recognizable and popular betting and gambling sites on the Internet. It is a casino that offers US citizens a place to gamble online.