FREDERICKSBURG, Virginia -- In an exclusive interview with Selling Power, classically handsome Calvin Ayre, founder of the Internet gambling site bodog.com, explains how risk can produce tangible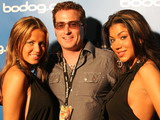 Calvin Ayer, CEO of Bodog.com
rewards. Ayre became a billionaire in just six years through smart risk-taking at a high stakes table. The article "High on Risk" traces his meteoric rise.
Ayre, who lives in a $3 million Costa Rican mansion surrounded by luxury, beautiful women, and powerful cars, last year took in $7.3 billion in online wagers through his privately held company. With its 16 million customers, bodog.com has 145,000 "regulars" who place bets at least once a week.
Not surprisingly, Ayre has some definitive ideas on
poker
, another gaming pastime that piques his interest. Its companion piece, "When to Hold 'Em," draws lessons from the experts, including Ayre, who see poker as analogous to business, and even as a metaphor for life. "You can't control the cards you're dealt, but you can control how you play them." Do you want to know how to use
poker strategies
to gain the upper hand in sales situations? Use these five key skills of poker that you can apply to your next sales presentation:
--Get your nerves under control.
--Read the other guy.
--You gotta know when to fold 'em.
--Play to win, don't play not to lose.
--Survive a slump with style.
Get the full story on the poker/sales interface and an exclusive look at the man behind the
online gambling
phenomenon of bodog.com in the July issue of Selling Power. It's a good bet all around.
Selling Power magazine is available in print by subscription and it is sold through 2,200 newsstands and Barnes & Noble stores. Selling Power also publishes the entire magazine online. For details, go to www.sellingpower.com.
Bovada is an offshoot of Bodgo,one of the most recognizable and popular betting and gambling sites on the Internet. It is a casino that offers US citizens a place to gamble online.