CRYSTAL BAY, Nev.— As reported by the North Lake Tahoe Bonanza: "The Cal Neva Resort, Spa & Casino is facing potential foreclosure in the coming months while its lawyers work out details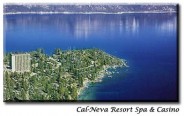 The Cal Neva Casino in Lake Tahoe with its financing company to prevent the sale of the property.
"We're working with the lenders," said John Harounian, an associate asset manager with the Cal Neva's ownership group, Namcal. "There are some technicalities we are working through..."
"In November 2007, Canpartners lent Namcal $25 million with the Cal Neva property as collateral. On Dec. 9, 2008, Fidelity National Title Insurance Company, on behalf of Canpartners, a Delaware limited liability company, filed a default notice with the Washoe County Recorder.
According to Nevada law, Canpartners can sell the Cal Neva three months after serving the notice of default if the debt is not settled within 35 days of the default notice. That would give Namcal until Saturday, Jan. 10, to settle the debt. If the debt still remains, Canpartners could begin selling the property on March 9.
The Washoe County Recorder's office has not received a notice of sale or a record of a canceled default for Namcal, said Washoe County Recorder Kathryn Burke.
"A lot of times after we see a notice of default, we see a notice of sale, but we have seen no notice yet," Burke said..."
Cal Neva Resort, Spa and Casino
2 Stateline Road
Crystal Bay, NV 89402
Toll Free Phone: 800-233-5551
Website: www.calnevaresort.com

This all-inclusive Resort on Lake Tahoe includes full resort services, euro-spa, great golf packages and of course featuring the best in slots, table games and weekly tournaments