LAS VEGAS -- Caesars World, Inc., a wholly owned subsidiary of Harrah's Operating Company, Inc., today announced it signed a trademark licensing agreement that will bring the world-renowned Caesars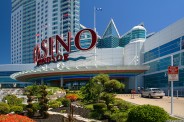 Casino Windsor is a popular Ontario destination.
casino brand to Canada in early 2008.
The agreement was signed with the Ontario Lottery and Gaming Corporation (OLG) to re-name Casino Windsor to Caesars Windsor following a C$400 million ($347.3 million) expansion that will include a new 22-story hotel tower and 5,000-seat entertainment center featuring world-class, premier entertainers. OLG is a provincial agency responsible for province-wide lottery and gaming operations.
The announcement was made at today's unveiling of Casino Windsor's new 9,545-square-foot Rotunda. The two-level Rotunda, topped by a six-story dome with soaring skylights, opens onto the casino's newly renovated main gaming floor and serves as the property's town square. With carved archways, Romanesque sculptures and marble columns, the Rotunda draws its inspiration from the vitality of the great Italian piazzas and incorporates architectural and design elements consistent with the Caesars brand.
When re-branded in 2008, Caesars Windsor will set a new standard for casino entertainment in the Detroit-Windsor area. The resort will offer customers a spectacular experience, including elegant accommodations, fine dining featuring an array of cuisines, world-class gaming with an expanded selection of table games, world-renowned entertainment and an extraordinary level of attentive service. In keeping with the brand's high standards of luxury, the existing 389-room hotel tower will be upgraded to Caesars' exacting and luxury standards, giving the property nearly 800 four-diamond hotel rooms when the renovation and expansion is completed.
"We are bullish about the prospects of growing the casino's business among players in the Detroit market and in neighboring states," said Charles Atwood, vice chairman of the board, Harrah's Entertainment. "Combining the Caesars brand and unmatched amenities will inspire customer loyalty among players seeking the region's best casino experience."
In independent research conducted with casino customers throughout North America, Caesars is consistently rated as the most recognized and respected brand in casino entertainment.
Along with the Caesars re-branding, Casino Windsor will, upon the receipt of all required regulatory approvals, introduce several new customer service and marketing programs, including Total Rewards®, the casino industry's first and most successful customer loyalty program. Total Rewards is consistently rated one of the top relationship-marketing programs in any industry.
With a launch expected in the second quarter of 2007, Total Rewards will allow Casino Windsor customers to earn Reward Credits based on how much and which games they play. The Reward Credits can be redeemed for meals, merchandise, trips, concerts and other benefits at Casino Windsor, as well as any other casino operated under the Harrah's, Caesars, Horseshoe, Harvey's, Rio, Paris and Showboat brand names, including resorts in
Las Vegas
, Lake Tahoe,
Atlantic City
and New Orleans.
The Rotunda unveiled today features multiple venues in which customers can relax and enjoy a wide array of entertainment. The Cosmos Lounge on the ground floor is a full-service bar open until 2 a.m. daily. Vu Bar, a second-level Las Vegas-style nightclub, features spectacular panoramic views of the Detroit skyline and the Detroit River from floor-to-ceiling windows or an outdoor patio. Vu is open Wednesday through Sunday, from 6 p.m. to 2 a.m.
The Artist Cafe, directly across from the Rotunda, offers light fare that can be enjoyed in the Rotunda patio setting. The new Premier Lounge is an exclusive venue for the casino's most loyal customers, offering complimentary food and beverages in an upscale setting.
Energy thrives throughout the casino's remodeled gaming floor where the hottest slots and table games are spaciously laid out as part of a new design. Wider aisles and shorter banks of machines allow customers to easily maneuver throughout the casino.
The selection of slot games is a mixture of customer favorites including Elvis, Jackpot Party, and Wheel of Fortune, along with a wide variety of new penny and 2-cent games, 50-line progressives and multi-line payouts featuring the latest "coinless" slot technology. Customers also can enjoy 56 table games including novelty poker, blackjack, roulette, baccarat and craps.
These enhancements complement several new additions unveiled at Casino Windsor earlier this year, including Legends Sports Lounge. Legends Sports Lounge features sports wagering on American football, baseball and college football and international hockey with higher wagering limits and expanded options not available at Ontario lottery dealers. The lounge also boasts the longest sports ticker in Canada, 36 video displays, three distinct seating areas for more than 170 customers, excellent pub food and famous Canadian beer on tap.

Caesars Entertainment
One Caesars Court
Las Vegas, NV 89119
Phone: (702) 407-6000
Fax: (901) 762-8637
Website: www.caesars.com

Caesars Entertainment owns or manages through various subsidiaries more than 40 casinos in three countries, primarily under the Harrah's, Caesars and Horseshoe brand names. Caesars also owns the World Series of Poker« and the London Clubs International family of casinos.
Casino Windsor
377 Riverside Drive E.
Windsor, ON N9A 7H7
Canada
Phone: (519) 258-0434
Toll Free Phone: (800) 991-7777
Website: www.casinowindsor.com

Voted the Detroit regioné─˘s Best Overall Casino Resort by Casino Player Magazine. The property has a variety of casino games, four fabulous restaurants, and entertainment featuring the best in revue shows. Four-diamond hotel. Free parking.