LAS VEGAS, NV - blink-182 is reuniting for their first tour in 5 years and will be bringing their highly-anticipated show to The new Joint at Hard Rock Hotel & Casino on Friday, July 24. Joining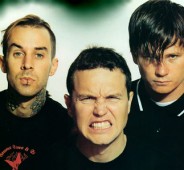 Reunited blink-182 scheduled to perform at The New Joint Friday, July 24 blink-182 for this incredible show will be indie-rockers Chester French and punk-rockers Motion City Soundtrack.
Travis Barker, Tom Delonge and Mark Hoppus, better known as blink-182, one of the world's greatest punk rock bands, set the alternative nation abuzz with excitement and anticipation earlier this year when they officially announced they are back together.
With more than 20 million albums sold worldwide, blink-182 is widely considered one of the best punk rock bands of all time. Formed in the San Diego suburbs in 1993, the band found international fame, multi-platinum albums and massive radio airplay success before breaking up in 2004. Although each member went on to their own successful projects, personal events and natural chemistry brought them back together. In what each of the band members describe as nothing short of fate, they have newfound inspiration and creativity together, and are working to create the summer's best rock show. Known for connecting with their fans, blink-182 is out to prove that after five years apart, they can still deliver a massive show and this will be the highlight of the summer touring season.
"We can't wait to get out on tour this summer. After a four year break, we're ready to get out on the road and play what we hope will be the most amazing tour of the season. The lineup is awesome. We've got an ever-changing roster of bands, from the most established and successful names in rock and roll, to the hottest up and coming artists on the scene. For production, we're putting together the most ambitious stage show of our career. Working with Martin Phillips (stage designer for Daft Punk, Kanye West, Nine Inch Nails, etc), you can expect the most ridiculous display of lights and images we can imagine." said blink-182 bassist Mark Hoppus.
Tickets go on-sale Saturday, May 30 at noon for blink-182. Tickets are available at the Hard Rock Hotel Box Office, all Ticketmaster locations, online at www.Ticketmaster.com or charge-by-phone at 800-745-3000. Tickets start at $45 and are subject to service fees.
Hard Rock Hotel & Casino
4455 Paradise Road
Las Vegas, NV 89109
Phone: (702) 693-5000
Toll Free Phone: (800) HRD ROCK
Fax: (702) 693-5010
Email:
info@hrhvegas.com
Website: www.hardrockhotel.com
The Hard Rock Hotel & Casino is a popular destination entertainment resort that was built in 1995. It has over 600 rooms and features over 650 slots and 90 table games. In addition to the hotel and casino, the property has a beach club with a swimming pool that was selected by the Travel Channel as one of the top 10 pools in the world, the Body English nightclub, "The Joint" concert hall, five restaurants, including the world famous Nobu, and an 8,000-square-foot spa and fitness center.