Stretch Your Bankroll Online!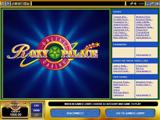 Roxy Palace can really help you stretch your casino bankroll. The casino has games with more favorable odds than you would find at most casinos in the United States. Add to that the generous bonus that you receive just for signing up, and you are getting a lot of extra playing time for your gambling dollar.
888 and Facebook to work together...More from Perspectives Weekly
Thursday, December 20, 2012
Online gambling news this week: 888 Holdings has announced a deal to bring real money gaming to Facebook in the United Kingdom. Also, industry news from the U.S. state of Massachusetts and the Canadian province of British Columbia.