Gambling Wizards
by Richard Munchkin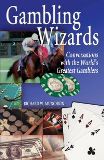 Get into the minds of the greatest gamblers of all time with this 2002 release from Huntington Press, Gambling Wizards by Richard W. Munchkin. Read in-depth interviews with eight masters of the games. Learn how they think, how they play, and what made them successful. The interview subjects include: Billy Walters (sports betting), Chip Reese (poker), Doyle Brunson (poker), Mike Svobodny (backgammon), Stan Tomchin (backgammon and sports betting), Cathy Hulbert (blackjack and poker), Alan Woods (blackjack and horse racing), and Tommy Hyland (blackjack).

A History of Playing Cards
by Catherine Perry Hargrave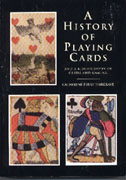 This is actually a reissue of an old book that went out of print as a hardbound. Subtitled A Bibliography of Cards and Gaming, it includes an enormous annotated bibliography of more than 900 items on playing cards and games, and over 1,400 illustrations. Praised as the most authoritative and complete treatment of its kind, the book is profusely illustrated and gives a fascinating overview of heraldry, geography, history, and the social and political activities of man over the past six centuries. Includes playing cards of the West and of China, Japan, India, Europe, and Russia.