Smart Money: How The World's Best Sports Bettors Beat the Bookies Out of Millions
by Michael Konik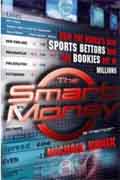 This book takes you into the world of sports betting, where real men bet million dollars on the outcome of a football game. The author got involved with this hidden world of sports betting when he interviewed of Rick "Big Daddy" Matthews for a magazine article. That interview turned into a venture that made him a rich man. It's the kind of life men dream of but don't really think exists. It does. The cast of characters is real; their names have been changed.

Practical Casino Math
by Robert Hannum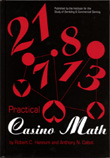 Written by Robert Hannum and Anthony Cabot, Practical Casino Math will serve as a valuable reference for anyone — player or manager — interested in the mathematical foundations of casino games and the use of mathematics in gaming management practice. Topics ranging from the basic principles of probability, odds, expectation, house advantage, and the law of averages, to price setting using game odds, gaming and economic regulations, standards for fairness, player worth and rebate programs are included in this must have book.