Sucker's Progress
by Herbert Asbury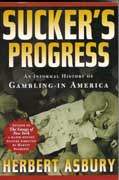 Originally published in 1938, this book looks at old-time gamesmanship in America, from riverboats to racetracks, and explores the legal, and illegal, history of gambling in pre-World War I America. The author defines the world of gambling as one of "sharpers" and "suckers" -- those who excel at the games by cheating and their victims. From notorious gambling havens like Chicago and New Orleans to lesser-known outposts in Fort Wayne, Indiana, and Cincinnati, Ohio, the book examines the gambling houses, big and smal. Also included are details of the lives of some of America's most famous gamblers, including Mike McDonald, John Morrissey, and Richard Canfield, as well as their infamous counterparts like "Canada Bill" and "Charley Black Eyes, " who made their names as grifters and con men. Also detailed are the games these men played, describing the rules and origins of a number of dice and card games.

Henry Tamburin on Casino Gambling
by Henry Tamburin

One of the most prolific and respected authors on the subject of gambling presents more than 75 of his previously-published articles from many other publications, now under one cover. In 8 chapters, he covers a wide spectrum of games, including the basics of craps. blackjack, slots, video poker, roulette and poker.