Life: The Odds
by Gregory Baer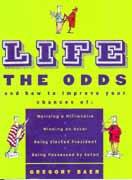 Here's the lowdown on life's most intriguing possibilities, in a humorous format. If you've ever wondered about the likelihood of striking it rich, being audited by the IRS, or living to be one hundred years old, your search is over. How many of us have actually sat down and calculated the chances that we could marry a millionaire? Or that the earth could be destroyed by an asteroid? With Baer's book you can find out answers to these questions and more in a fun, freewheeling, and compulsively readable way. He not only gives startling stats but also advice for nudging fate in your favor. Readers will discover the odds of such interesting topics as winning at blackjack or keno, of gueesing heads/tails correctly, of having your identity stolen, and many more.

Cruising the Casinos with Syndicated Gambling Columnist John Grochowski
by John Grochowski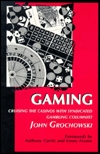 A collection of John's newspaper columns originally published in 1994 and '95, Gaming takes you through his mix of essays, questions from readers and quizzes on topics ranging from blackjack strategy to roulette systems to compulsive gambling.