Playing Cards
by Buzz Poole

Playing cards are ephemeral; they are used, become worn and then just get thrown away. Good quality examples of playing cards featuring the graphics of the past are hard to find in sufficient volume and variety to make an interesting collection. The 300 cards collected here were printed during the 1930s and 1940s. The subjects are as varied as the graphic styles, and for that very reason, all of these cards provide the opportunity to look back through a well-focused window into the inspiring and colorful past of playing card graphic design. This is a colorful picture book only, with some description. It is not a price guide.

Experts' Guide to Casino Games
by Walter Thomason (editor)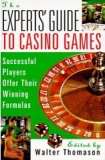 Editor Walter Thomason brought together some of the top experts in gaming to lend their advice on all the most popular casino games -- Frank Scoblete on craps, Henry Tamburin on roulette, Let It Ride and Caribbean Stud, Alene Paone on baccarat, John Grochowski on blackjack and much more.