I'll Do My Own Damn Killin'
by Gary Sleeper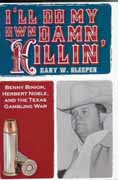 Benny Binion was a larger-than-life casino mogul who was build a legend for himself in Las Vegas. But before that, he led the Texas underground in a gambling war that lasted over fifteen years before he was "sentenced" to Las Vegas where he became the patron saint of World Series of Poker. In this new look at the man author Gary Sleeper presents previously unseen details of Binion's pre-Las Vegas life and spices it with electrifying details and sharp wit.

Mafia: The Government's Secret File on Organized Crime
by Sal Scorza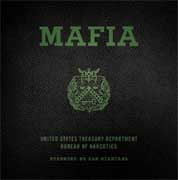 The period from the late 1950s (the time of the Mafia's famous Apalachin summit in upstate New York) through the late 1960s (when The Godfather was published) were a golden age for organized crime in America – the era that saw the Meyer Lansky generation give way to the Gambinos and Bonannos, that saw an explosion in narcotics trafficking, and that inspired storytellers like Mario Puzo, Nicholas Pileggi, and Martin Scorsese. Now, in an unbelievable find, comes the long–buried Bible of the Mafia and all its most storied players, at the height of that watershed era.