Practical Casino Math
by Robert Hannum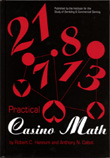 Written by Robert Hannum and Anthony Cabot, Practical Casino Math will serve as a valuable reference for anyone — player or manager — interested in the mathematical foundations of casino games and the use of mathematics in gaming management practice. Topics ranging from the basic principles of probability, odds, expectation, house advantage, and the law of averages, to price setting using game odds, gaming and economic regulations, standards for fairness, player worth and rebate programs are included in this must have book.

Henry Tamburin on Casino Gambling
by Henry Tamburin

One of the most prolific and respected authors on the subject of gambling presents more than 75 of his previously-published articles from many other publications, now under one cover. In 8 chapters, he covers a wide spectrum of games, including the basics of craps. blackjack, slots, video poker, roulette and poker.