Las Vegas Memories
by Jerry Fink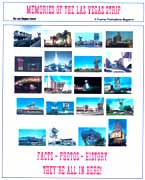 For the person who has been visiting Las Vegas for a long time, for the newbie to the swinging Strip and for those who have a longing for a bit of nostalgia, this book is a must-have. Subtitled Gone but Not Forgotten, the book focuses on casinos that have either been imploded, renamed, or eaten up by time. With pictures and text the authors provide a walk into past history for places like the Club Bingo, Desert Inn, Dunes, El Rancho, the Glass Pool Inn, the Klondike, Marina, Sans Souci, Silverbird, and more. It also takes a look at the Bally's/MGM monorail which no longer exists, the MGM fire, the World of Coca-Cola, Wet 'n' Wild, the Red Rooster as well as pictures and tibits of information about people -- showgirls and stars.

Advantage Play For The Casino Executive
by Bill Zender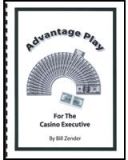 When you hear about famous card counting teams, such as the MIT group, you're getting only part of the story. The weapons in the arsenals of these players are truly amazing-and they're described in detail here. In addition to blackjack strategies, Zender writes about biased roulette wheels, playing with hole-card information in Three Card Poker, and the latest debate on whether dice can be controlled with "rhythm rolling" (he's dubious). For video poker players, there's a big section on combining return percentages, cashback, and promotions to gain an edge (Bob Dancer style).