Black Gangsters of Chigago
by Ron Chepesiuk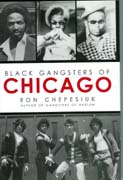 When we think about Chicago-style gangsters, we often think of names like Capone and Gincana. But as powerful and brutal as these guys and their underlings were, an equally fearsome group populated the Windy City. They were the African American mob bosses such as Mushmouth Johnson who was responsible for a long era of underground gambling halls, political bripery and election fraud and the more modern crew such as the Blackstone Rangers and up to the 2003 assassination attempt that left convicted cop killer Willy Lloyd paralyzed. Lloyd ommanded his gang while in jail.

Weird Las Vegas and Nevada; Your Alternative Travel Guide
by Joe Oesterle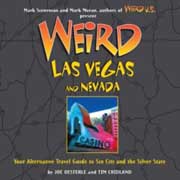 Billed as Your Alternative Travel Guide to Sin City and the Silver State, this profusely illustrated book covers local legends, ancient mysteries, bizarre beasts, and the like. Where else but Las Vegas, for example, will you find a place that names its highways after extraterrestrials, where mobsters are city fathers, and where Elvis—or a reasonable facsimile of him—hangs out on every street corner. The authors explored the Coffin House in Pahrump, NV—and made it out alive -- searched for the river of black gold; watched rocks move all by themselves at Little Bonnie Claire Playa,; and tracked down some very odd legends, like the one about the eerie dead body under the hotel mattress. A fun book for sure and a great gift for the Vegas fan. 252 pages, illustrated, hardbound, 2007.