Gambling's Strangest Moments
by Graham Sharpe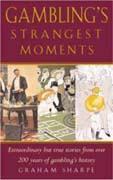 Over the centuries there have been many strange gamblers – and even more strange gambles – and in this unique collection of punts and punters, Graham Sharpe reveals fearless, flamboyant and fantastic flutters. Some of the most extraordinary bets include the male gambler who had a boob job to win a big bet; the gambler who set off to walk round the world wearing an iron mask to land a wager; the man who could genuinely dream winners. Sharpe is also haunted by a couple of ghostly gambles, and looks at the betting propensities of US Presidents – including one who gambled away the White House's finest china. Celebrities who indulge in strange betting practices are unmasked, too – the Marx Brothers, Ben Affleck, James Bond, Kerry Packer, Richard Burton, Oscar Wilde, Professor Stephen Hawking, to name a few.

Unofficial Guide to Las Vegas
by Bob Sehlinger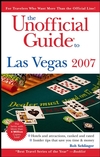 Here's the perfect companion for the person who really wants to plan a trip to Las Vegas and know what to expect in regard to hotel, show, transportation and food prices, room rates etc. The unique approach of this book is matched by no other reference source—telling you how long it'll take you to go from one location to another by foot or taxi, how much it would cost by public transportation. The book describes the major showroom attractions and usual show times, where to make reservations, how much you can expect to pay, the nights of the lowest attendance, how long the show lasts, and rates the show's appeal to different age groups. You'll also find out if the show involves topless dancers, whether tips are included in the price, and a description of the show's contents (so you can see if it's suitable for children, a conservative group, etc.).There's a description of off-Strip bars, lounges, hangouts, their hours, cost of drinks, if there's a minimum, type of crowd it appeals to.