Supermob
by Gus Russo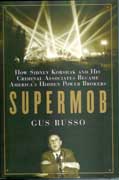 How does a man with no phone, no office, and no files become the most powerful man in politics? This book is an explosive story of the criminal underworld and its covert takeover of American politics, business, and entertainment. It's the tale of a cadre of powerful men who, over the course of decades, secretly influenced nearly every aspect of American society, including such famous (and infamous) folks as Jules Stein, Ronald Reagan, Abe Pritzker, Lew Wasserman, and John Jacob Factor -- as well as numerous other meticulously low-profile members. At the heart of it all is was the Chicago Outfit and its fair-haired boy, Sidney Korshak, aka 'The Fixer'" who from the 1940's until his death in the 1990s, was not only the most powerful lawyer in the world, according to the FBI, but the enigmatic, almost vaporous player behind some of the shadiest deals of the 20th century: from hitherto undisclosed California land grabs (the real 'Chinatown' story) to Hollywood quid pro quos, from casino monopolies to underhanded hotel deals. As the underworld's primary link to the corporate upperworld, Korshak's backroom dominance and talent for anonymity remains unparalleled.

Bluegrass Days - Neon Nights
by John Smith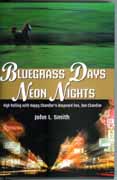 Takes you through the rollicking life and times of legendary Las Vegas casino host and bon vivant, Dan Chandler. The wayward son of former Kentucky Governor and Major League Baseball Commissioner Albert "Happy" Chandler, Dan likes to say he started at the top and has spent his life working his way to the middle. Along the way, you'll meet an endless parade of famous politicians, entertainers, and Hall of Fame athletes and learn an insider's perspective on Las Vegas history and Kentucky politics. Dan arrived in Las Vegas as the gambling capital's mob days were fading, but Caesars Palace had no shortage of characters — and he became intimate friends with super high rollers and stars ranging from Waylon Jennings and Willie Nelson to Jimmy Buffett, Frank Sinatra, and the Lennon Sisters.