Fooled by Randomness
by Nassim Taleb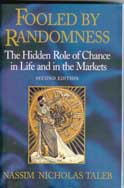 In its second edition, Fooled by Randomness is now a cornerstone for anyone interested in random outcomes. Published in 14 languages, this new edition, expanded by over 80 pages, includes up-to-date advances from behavioral finance and cognitive science. This book is about luck or more precisely how we perceive and deal with luck in life and business. It is already a landmark work and its title has entered our vocabulary.

Weird Las Vegas and Nevada; Your Alternative Travel Guide
by Joe Oesterle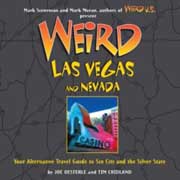 Billed as Your Alternative Travel Guide to Sin City and the Silver State, this profusely illustrated book covers local legends, ancient mysteries, bizarre beasts, and the like. Where else but Las Vegas, for example, will you find a place that names its highways after extraterrestrials, where mobsters are city fathers, and where Elvis—or a reasonable facsimile of him—hangs out on every street corner. The authors explored the Coffin House in Pahrump, NV—and made it out alive -- searched for the river of black gold; watched rocks move all by themselves at Little Bonnie Claire Playa,; and tracked down some very odd legends, like the one about the eerie dead body under the hotel mattress. A fun book for sure and a great gift for the Vegas fan. 252 pages, illustrated, hardbound, 2007.