More Book Reviews
Best Selling Poker Books of 2014
How did the new books compare to the old classics? Well, we will let the data speak for itself. Take a look at the list of the best selling poker books of 2014.
Deal Me In and Eat Professional Poker Players Alive Reviewed
There isn't a clear path by which people become professional poker players. There aren't any good courses at the local vo-tech for a person to study. The road to becoming a poker pro is inevitably difficult, circuitous, and filled with setbacks. Deal Me In is a book describing the course by which twenty top poker players became professionals.
Poker Winners Are Different
There is a big difference between what's typical human behavior and what is called for to play poker at a high level. There aren't a lot of people for whom maximizing their expectation in poker games comes naturally. Poker Winners Are Different by Alan Schoonmaker examines this conundrum.

Book of Bluffs
by Matt Lessinger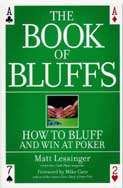 Contains 11 solid chapters, packed with illustrations, sample hands, and interviews with players who pulled off some of the biggest bluffs in modern poker history. Where most books have a basic chapter, section or discussion on bluffs, Lessinger takes it many notches better -- almost honing it to a fine art where we'd all like to be -- way ahead ands brave enough to keep plowing over the opposition even when don't have a great hand.

Matt Lessinger's Website
Matt Lessinger, the author of the Book of Bluffs, has his own website that features other reviews of the book and a web version of the first chapter.
Without bluffing, there would be no poker. Arguably the bluff is the defining element that separates poker from other games. I can't recall reading a poker book that doesn't address the subject of

Nick Christenson is widely regarded as one of the best gambling book reviewers publishing today. He is a contributor for Poker Player magazine, and has published in Full-Tilt and Gambling Times. He is also the editor of the very funny 'Casino Death Watch,' which chronicles the comings and goings of casinos in Las Vegas. He is an avid poker and blackjack player. Nick's website is www.jetcafe.org/~npc/ bluffing, and it would be challenging to write a meaningful book on the subject without covering the topic. Despite this, very few poker books have been written that focus on this almost mystical aspect of the game. This new book is one of the few, written by Card Player columnist and professional poker player Matt Lessinger.
Lessinger begins with two chapters of background material, one covers the basis for bluffing, the other is primarily about classifying opponents with an eye toward understanding when each type of opponent can and can't be successfully bluffed. Other poker authors have written about categorizing poker opponents, but I've generally not been terribly impressed with these efforts. I'm still not a big advocate of this sort of thing, but I believe Lessinger's comments on the subject are probably the most interesting I've read on the subject. Consequently, I found the second chapter of The Book of Bluffs to be more interesting than I anticipated.
The remaining nine chapters chronicle different bluffing situations, most of which are taken from actual hands the author has either played himself or witnessed. The examples in the final chapter come from key moments in the World Series of Poker, and the facts of these hands may already be familiar to many readers. For most of the bluffing examples Lessinger assigns a numerical example to the "degree of difficulty", and a qualitative description of the bluff's rate of success and the frequency with which that particular bluffing situation comes up.
Even though I can come up with some types of bluffs that The Book of Bluffs doesn't specifically consider, Lessinger has done a pretty exhaustive job of categorizing a great number of such situations. I don't always completely agree with Lessinger's assessment of several of his scenarios, but at the very least in each of the situations discussed a bluff should at least be considered. Most of the time Lessinger's commentary on these hands is well thought out, even if it's not the only reasonable strategy one might wish to adopt.
There are a couple of areas in this book where I was a little disappointed. One is that in several places Lessinger makes dogmatic statements that I think ought to be reconsidered. As just two examples, Lessinger states that there is "no other poker book" devoted to the topic of bluffing, and at the beginning of the first chapter the author states, "There are only two ways to win a pot: You can show down the best hand, or bluff with the worst one." Regarding the first point, off the top of my head I recall that Lynne Taetzsch wrote a book called Winning Methods of Bluffing & Betting in Poker. As to the second point, clearly someone can also win a pot by getting no callers when betting with the best hand. Lessinger knows this, but it's too bad that someone didn't carefully read the book before publication and suggest that he rewrite this point. There are several other places in the book where Lessinger makes this kind of error. By no means does this invalidate the useful things the author says, but it is sloppier writing than I prefer.
In the first bluff in the book Lessinger not only considers the bluff (in this case, a late position blind steal), but also ways in which players can defend against a bluff. I admit to being a little disappointed that the author spends so little of the rest of the book talking about the flip side of bluffing situation, spotting and defending against possible bluffs. From an equity perspective, this is every bit as important as bluffing itself. Even though it is perhaps a less sexy topic, it's an important one, and I belive it deserves more coverage in a book on bluffing than it received here.
Despite its rhetorical flaws, there's a lot of really good material in The Book of Bluffs. Frankly, I think many of the author's best ideas are just tossed out in places as sort of "throwaway" lines, so I recommend reading through the book carefully. Lessinger clearly has interesting things to say about the topic of bluffing and poker in general. Some people seem to complain that this book advocates almost a continual stream of reckless betting, but hey, this is a book on bluffing. We expect the author to be an advocate for these plays. Nonetheless, because this book has a narrow focus on one aspect of poker strategy, there is a danger that inexperienced readers might construe the advice in this book more broadly than is prudent. I would recommend that readers keep this in mind when reading The Book of Bluffs, but that doesn't detract for the good ideas it contains.
The Book of Bluffs isn't everything I had hoped it might be, and there are some places where I wish the author had been more accurate and precise in his writing. However, there is a lot of good material in these pages, easily enough for me to recommend this book. In many reviews I have advocated a critical reading of a given book, and this is especially true in this case. As a consequence, I belive this book is better suited to more experienced poker players. I like a lot of what this book has to say, so I believe it is well worth reading.