Free Online Blackjack School!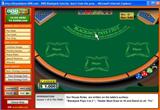 LuckyAce casino offers an excellent online tutorial for learning blackjack. This interactive instruction introduces beginners to the table, rules, cards and chips. There are also practice lessons, an explanation of house rules and a glossary. A particularly useful feature is the basic strategy card which you can consult while you play. If you're learning blackjack basic strategy, check out this blackjack school!
Blackjack Cheater is a wireless blackjack game that lets players compete in tournaments, play with AI tablemates, unlock 8 unique casinos around the world, and get hints at every step. "But it's the Cheater angle," notes Lynette Latta, VP of Marketing for GS60, "that really sets us apart from the competition. Our in-game personal coaches not only explain basic hitting, standing and betting strategies, but also give the full download on how to count cards. Plus, our 'REAL LIFE CASINO TIPS' teach players how to react in a casino setting and most importantly, cheat undetected."
GOSUB 60 has been working in the mobile card game market for a while, beginning with Solitaire Deluxe(TM), their premiere release in early 2003. Since then, the Solitaire Deluxe(TM) family of titles has been a top-seller on carriers worldwide, with over 1.5 million downloads to date. Blackjack Cheater(TM) is the first release in GOSUB 60's trademarked Cheater(TM) line of products encompassing an array of card, entertainment, and productivity titles.