NEW YORK - (PRESS RELEASE) - AOL has partnered with GSN, the Network for Games, to create a new blackjack area on AOL.com. Coming in April, the new blackjack hub will offer free Blackjack gameplay,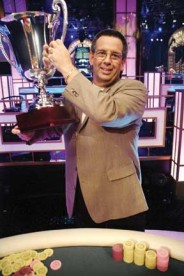 Ken Einiger, the winner of the 2005 World Series of Blackjack tips from the pros and - during the show's airing in June - exclusive behind-the-scenes video content from GSN's "World Series of Blackjack" TV show. In addition, Blackjack fans can visit www.aol.com/blackjack beginning January 19 to enter for a chance to win a seat on the GSN television series "World Series of Blackjack" and compete for the million dollars at stake.
"The World Series of Blackjack" will consist of 13 one-hour weekly episodes which will begin airing in June on GSN. As part of the partnership, GSN will direct viewers of "World Series of Blackjack" and its "Casino Night" programming on Monday nights to the new Blackjack area on AOL. The "World Series of Blackjack" program will also be promoted across relevant sites on the AOL network including AOL Games, AOL Television, AOL Vegas and more.
January 19 through February 8, Blackjack fans can visit www.aol.com/blackjack to enter for a chance to win one of eight eight-day/seven-night trips to Las Vegas where the winners will play in a qualifying Blackjack tournament taped exclusively for AOL. The two finalists of this qualifying tournament will be among 40 players competing for a piece of the million-dollar prize pool at the "World Series of Blackjack" at the Las Vegas Hilton. The grand-prize winner receives $500,000 and all 40 players will be compensated. AOL-selected participants will be prominently featured on the "World Series of Blackjack" program, appearing on one to four episodes depending on their performance, and will be profiled in player background segments. GSN will also provide exclusive footage to AOL featuring the "Vegas experience" of the AOL players.
In addition to the "World Series of Blackjack" promotion, GSN's online & interactive TV games such as Lingo, Ballbreakers and others will be made available on AOL Games at www.aol.com/games.
"Casino games such as blackjack and poker have become wildly popular among mainstream audiences and that trend is reflected on AOL Games," said Ralph Rivera, Vice President and General Manager, AOL Games. "AOL is excited to join forces with GSN to give blackjack fans fun exclusive content and unique community interaction, as well as the only online resource where they have a chance to win a seat at the World Series of Blackjack."
"This is a great partnership with AOL to provide their winners with a chance to compete in the first and only Blackjack tournament on television," said Dena Kaplan, Senior Vice President of Marketing, GSN. "As GSN is the leader of interactive TV games, it makes perfect sense to join forces with AOL to promote the World Series of Blackjack on their robust game site."
In addition to its new Blackjack area, AOL recently partnered with Harrah's Entertainment to create a "World Series of Poker" hub on AOL.com, which features free poker games for players of every skill level, and opportunities for players to win a seat at "World Series of Poker" events. AOL also recently launched "AOL Vegas," a new Las Vegas destination dedicated to all things Vegas from casino games, travel planning and original programming.
About AOL Games
AOL Games provides access to unique and exclusive high-speed and narrowband programming features for online, PC and console gamers, and provides more than 150 online games to approximately 8 million game fans per month*.
About America Online, Inc.
America Online, Inc. and its subsidiaries operate a leading network of Web brands and the largest Internet access subscription service in the United States. Brands include the AOL® service, the AOL.com® website, and the AIM®, MapQuest®, Moviefone®, Netscape®, CompuServe® and ICQ® services. America Online offers a range of digital services including the TotalTalk® voice service. The company also has operations in Canada and Europe. America Online, Inc. is based in Dulles, Virginia, and is a wholly owned subsidiary of Time Warner Inc.
About GSN
GSN, the Network for Games, is the only U.S. television network dedicated to game-related programming and interactive game playing. The network features game shows, reality series, documentaries and casino games. GSN is the industry leader in interactivity and as such allows viewers a chance to win prizes by playing along with GSN's televised games via GSN.com. Reaching 57 million Nielsen homes, GSN is distributed in the U.S. through all major cable systems and satellite providers. The network is jointly owned by Sony Pictures Entertainment and Liberty Media Corporation. For further media information, visit GSN's press website at corp.gsn.com.