Club USA Casino Blackjack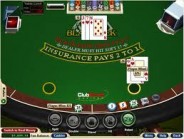 Club USA Casino Blackjack is the best bet for practicing blackjack basic strategy without stress and distractions. The game comes in both free play and real money modes and you can play up to three hands on your own table. The rules are favorable and with a house edge of only 0.71%, better than many casinos. The table minimum is $1 per hand and the maximum is $500.
(PRESS RELEASE) -- Concrete Software, a leader in innovative mobile content, has announced the release of its all new Aces Blackjack™ card game for the Pocket PC.
Aces Blackjack™ now joins the ever-growing line of popular Aces poker games. The game incorporates the standard casino blackjack game with a couple of twists. Players will now be able to compete against each other for high scores. In Aces Time Crunch the player is in a race against the clock to accumulate the most amount of money in a preset amount of time. In Aces Hand Challenge, players see how much money they can amass in a set amount of hands.
Since early in 2004, Concrete Software has been selling poker games and applications under the Aces brand. Its premiere product, Aces Texas Hold'em™ – No Limit sells on most mobile devices, with other Aces brand hits including Aces Omaha™, Aces Texas Hold'em™ - Limit and Aces Tournament Timer™ filling out the line. With stunning graphics and fun game-play the new Aces Blackjack™ game will be a nice compliment to the current line of Aces products.
About Concrete Software
Concrete Software creates innovative, high quality and easy to use software from personal productivity applications to games. Concrete Software supplies applications that run on virtually all mobile platforms including BlackBerry® handhelds, Pocket PC, Smartphone, Palm, and mobile phones and does so across most major carriers around the world. More information is available at /pass/links/?linkId=1&curId=325www.concretesoftware.com.